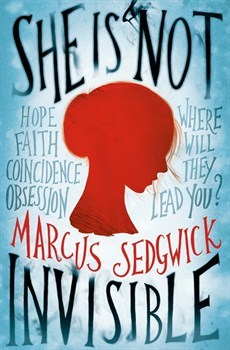 She is Not Invisible
by Marcus Sedwick
Date Published
: 3rd October 2013
Publisher:
Orion Children's
Amazon
Book Depository
Goodreads summary
Laureth Peak's father has taught her to look for recurring events, patterns, and numbers--a skill at which she's remarkably talented. Her secret: She is blind. But when her father goes missing, Laureth and her 7-year-old brother Benjamin are thrust into a mystery that takes them to New York City where surviving will take all her skill at spotting the amazing, shocking, and sometimes dangerous connections in a world full of darkness. She Is Not Invisible is an intricate puzzle of a novel that sheds a light on the delicate ties that bind people to each other.
I was actually hoping to hate this book, or at least be so bored of it that I wouldn't get past 50 pages but somehow I managed to hit around 100 pages before I realised that it was late and that the book hasn't bored me to death. I randomly picked this book out of the mass amount of Young Adult books in my local library mostly for the pretty cover and the interesting title. I admit that. So after having the book for about two weeks and my return date being right around the corner I decided to at least give this book a try.
I was so suprised. I mean the writing and the main characters just. Wow. I wasn't expecting the main character to be blind, and I wasn't expecting the writing to portray that in such a way. I guess I would have expected the author to make it very clear from the very beginning about the lack of eyesight that Laurenth has but there were only hints I guess is the right word. It took me a while to notice that the author has not actually described what people look like, the colours that were there or anything like it. I guess I was just blind to that (ha… sorry) The amazing thing about this book is how thoughtfully it has been written. All the other senses are heighted and written; like what Laurenth was feeling or hearing at times.
The story follows a 16 year old blind girl and her little brother on a quest to find their father who seems to be missing. Having travelled from England to New York to follow clues that might not actually be there and having to deal with not being able to take care of everything herself the journey is really unpredictable. There was so much that could have gone wrong and nearly did go wrong and I just still can't get over the writing.
This book was so cleverly written that I'm still in somewhat shock afterwards. By the last page I was mesmerised by the story and how much it meant to me. I wasn't expecting it to leave any deep feelings or make me sit in my room for a while and think about what I've just read.
Marcus is such an underrated writer; I wish that more people would realise how amazing his work is and that his words

are remarkable.