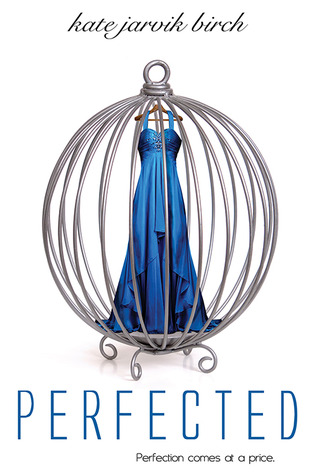 Perfected
by Kate Jarvik Birch
Date Published
: 1st July 2014
Publisher:
Entangled Teen
Amazon
Book Depository
Goodreads Summary
Perfection comes at a price. As soon as the government passed legislation allowing humans to be genetically engineered and sold as pets, the rich and powerful rushed to own beautiful girls like Ella. Trained from birth to be graceful, demure, and above all, perfect, these "family companions" enter their masters' homes prepared to live a life of idle luxury. Ella is happy with her new role as playmate for a congressman's bubbly young daughter, but she doesn't expect Penn, the congressman's handsome and rebellious son. He's the only person who sees beyond the perfect exterior to the girl within. Falling for him goes against every rule she knows…and the freedom she finds with him is intoxicating. But when Ella is kidnapped and thrust into the dark underworld lurking beneath her pampered life, she's faced with an unthinkable choice. Because the only thing more dangerous than staying with Penn's family is leaving…and if she's unsuccessful, she'll face a fate far worse than death. For fans of Keira Cass's Selection series and Lauren DeStefano's Chemical Garden series, Perfected is a chilling look at what it means to be human, and a stunning celebration of the power of love to set us free, wrapped in a glamorous—and dangerous—bow.
A VERY HAPPY RELEASE DATE TO PERFECTED! And a massive thank you to Entangled Teen for providing me this book for a review!
A new legislation is passed where owning a pet is taken to another level. Instead of having a fluffy puppy or a kitten to cuddle you to bed you can own a teenage girl who was bred to be perfect in all physical aspects.
The idea for this book seemed really out of the box and original. I was pleasantly surprised how the idea developed but there was nothing shocking about the plot or where it leads. There were no cliff-hangers, no surprises, nothing that would have actually made this book outstanding.
Number 8 or Ella as she's later is named is an engineered pet, raised in a kennel to be obedient to her new master. As soon as I read this description of the main character my first thought was obviously these beautiful girls will be used as sex play toys by middle aged guys. I suspect that most of them were brought just for that. However Ella was brought to be a playmate for a bubbly little girl and her family; which doesn't seem so bad.
"I was bred to be the perfect pet".
"I was bred to willingly put my owner's happiness before my own."
Taken out of context these two sentences seriously look like the worst starts for a porno. I mean come on! Willingly putting my owners happiness before my own. I get that they were bred to be like that and to think like this but I don't think I would be able to do that. Not in a million years. I wouldn't care if my "owner" was happy and none of my pets flipping do! To be fair they are cats and just care about food and where to crap but that is beside the point…
Okay now back to the book.
Ella's new family already had a pet, a pet that was given away for being "ill". However it's not hard to figure out what actually happened to the last pet, with the congressmen's wife not being particularly happy with Ella being there and with how the congressman acts towards Ella.
After she is brought her world changes, she needs to learn more things and more importantly learn what it really is like to be a pet. But is this the life that Ella can live with?
I don't think the ending and the love story is at all surprising. This book was a pleasant read but it's not at all amazing.