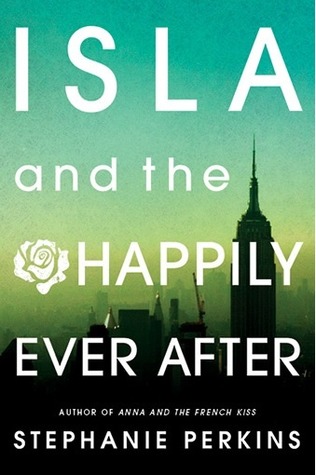 Isla and The Happily Ever After
by
Stephanie Perkins
Series:
Anna and The French Kiss *3
Published:
August 14th 2014
Publisher:
Dutton
Goodreads Summary
Love ignites in the City That Never Sleeps, but can it last? Hopeless romantic Isla has had a crush on introspective cartoonist Josh since their first year at the School of America in Paris. And after a chance encounter in Manhattan over the summer, romance might be closer than Isla imagined. But as they begin their senior year back in France, Isla and Josh are forced to confront the challenges every young couple must face, including family drama, uncertainty about their college futures, and the very real possibility of being apart. Featuring cameos from fan-favorites Anna, Étienne, Lola, and Cricket, this sweet and sexy story of true love—set against the stunning backdrops of New York City, Paris, and Barcelona—is a swoonworthy conclusion to Stephanie Perkins's beloved series.
What a beautiful way to finish an amazing journey. Did I mention my wonderful boyfriend managed to get me a signed copy of this book for my birthday? I did. Well you can hear about it again!
I didn't want to read this book, I didn't want to say goodbye! It wasn't until I reread Anna and The French Kiss (because my boyfriend got it for me for Christmas after I complained that I didn't have my copy anymore) a familiar name popped up. Isla. She was in Anna and The French Kiss; which yes I do realise that it's a really stupid discovery of mine but as soon as I saw her name pop up I knew I needed this with me right away. Hopeless (I would not have called her that) romantic Isla who has been in love with Josh, the moody artist since their first year at the School of America in Paris. After a rather embarrassing encounter back in Manhattan between the pair love is soon to be followed back to the city of love. (I just read what I wrote and I want to puke) Hell why doesn't Isla deserve to be with her crush? Good for her! You go girl!
I like to hide my lovey dovey side away and pretend like I don't have a weakness when it comes to cute romantic stories. But to hell with it. I loved this book. It's a close second to Anna and the French Kiss with Lola and the boy Next Door being shortly behind.
Maybe it's a Paris thing. I read a review that labelled Isla as the stalker and Josh as a self-centred artist, calling them horny rich kids. I couldn't agree more. Isla would have been the perfect example to show kids of the dangers of stalkers, and Josh is so far up his own ass that it's ridiculous. However that doesn't mean the book was bad. I think these two characters were perfect together. A little bit sad and extremely surprising that Isla actually managed to get with the boy of her dreams that she most likely had wet dreams over every night. Some of the things that girl did were such a red sign that I was cringing in between pages.
They managed to make it long distance! Hooray. Happy endings for everybody involved. It's in the title. This has been the best thing to up my spirits. There is nothing better than reading a soppily cute story with a happy ending for all the characters, especially Anna (spoiler). Then theres Kurt, he's annoying and he's Isla's best friend. I think that's all there is to his character. (not saying he wasn't developed by Stephanie, but his character is seriously
just a backdrop to this story)
I would describe each story as if it were a cute, fluffy puppy. You can't help but love it