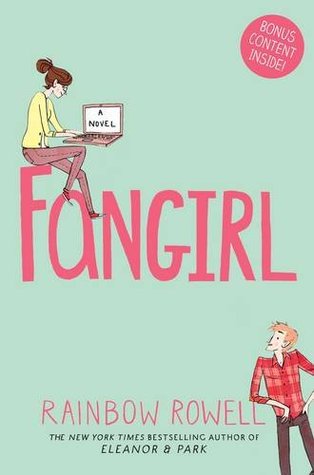 Fangirl
by Rainbow Rowell
Published by:
Pan Macmillian
First Publication:
10th September 2010
Goodreads summary
Cath and Wren are identical twins, and until recently they did absolutely everything together. Now they're off to university and Wren's decided she doesn't want to be one half of a pair any more - she wants to dance, meet boys, go to parties and let loose. It's not so easy for Cath. She's horribly shy and has always buried herself in the fan fiction she writes, where she always knows exactly what to say and can write a romance far more intense than anything she's experienced in real life. Now Cath has to decide whether she's ready to open her heart to new people and new experiences, and she's realizing that there's more to learn about love than she ever thought possible ... A tale of fanfiction, family, and first love
This seemed like the perfect book for a fellow fangirl, not only is the main character into reading and fanfiction she is also off to college. I thought this would have been the perfect read for me to prepare myself mentally for what I'm about to endure.
This book was a lot of hard work. I mean Cath was such a difficult character! There were specks of her personality that I could relate like wanting to stay in and read, or write a story, but other times I wanted Cath to jump in front of a bus.
Cath is really into writing her fanfiction about Simon and Baz; the characters are real to her and she wants nothing more than to write about them. I understand her obsession but it went a little bit too far I guess. I felt sorry for Cath sometimes. Her relationship with the fictional characters was rather getting out of hand and I really don't think it represented how us readers feel about certain characters.
I have no idea how her fanfiction ended. To tell you the truth I read only the first chapter in the book that Cath wrote. I had no desire to read a characters work. I wanted to, I mean it's such a great idea for Rainbow Rowell to do that! Writing a story about your own character writing a story? Perfect. However it ended up to be a disaster.
The dialog and the relationships in this book were okay. There is no other word to describe it. It was okay to read, there was no amazing chemistry between any of the characters there was nothing special about it. I did like how Cath and Levi interacted but it all seemed to incredibly childish. It was cute, but childish. I kept reading reviews of people falling in love for him, why?! He is like a puppy!
Back to Cath once again, I don't think I've come across a more needy character. I understand that her and her twin Wren did everything together even wrote some of the fanfiction together but as soon as Wren starts to have her own life Cath automatically starts to cling onto the past. It reminded me of 22 Jump Street when Schmit was clinging onto Jenko (yes I did recently rewatch the movie)
I didn't really want to review this book. I really don't have much to say about this book, am I going to remember the story in a year? No. I had to freaking look up Levi's name because he was lost in my memory.
I am glad I read this book, it wasn't horrible but it wasn't great. It's just a book that is going to fade into the background.