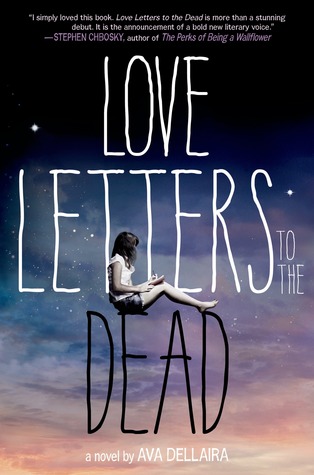 Love Letters to the Dead by Ava Dellaira
Published:
April 1st 2014
Publisher:
Farrar
Goodreads Summary
It begins as an assignment for English class: Write a letter to a dead person. Laurel chooses Kurt Cobain because her sister, May, loved him. And he died young, just like May. Soon, Laurel has a notebook full of letters to the dead—to people like Janis Joplin, Heath Ledger, Amelia Earhart, and Amy Winehouse—though she never gives a single one of them to her teacher. She writes about starting high school, navigating the choppy waters of new friendships, learning to live with her splintering family, falling in love for the first time, and, most important, trying to grieve for May. But how do you mourn for someone you haven't forgiven? It's not until Laurel has written the truth about what happened to herself that she can finally accept what happened to May. And only when Laurel has begun to see her sister as the person she was—lovely and amazing and deeply flawed—can she truly start to discover her own path.
I was so excited to read this book, it looked really promising and I wasn't at all disappointed with this one!
Laurel's sister May dies young and when her English teacher assigns her class to write a letter to a dead person Laurel choses Kurt Cobain as he died young just like her sister May. Quickly her notebook is filled with letters to other dead celebrities which she fails to turn in for her assignment, instead she begins to find herself in the words she writes to those that aren't with us anymore.
"I know I wrote letters to people with no address on this earth, I know that you are dead. But I hear you. I hear all of you. We were here. Our lives matter."
The letters started out as a somewhat diary, Laurel talked about her everyday life, missing her sister and starting high school. Then the letters turn into confessions about what happened to Laurel when she was little, she wrote about the things that she couldn't speak about to other people. Things that she believes caused her sister's death.
It's an amazingly beautiful novella and I was certain before even starting this book that I would love it. Now after finishing it and after writing this review I'm starting to doubt this. Don't get me wrong it's a beautiful piece and I can honestly say that I enjoyed every single word written by Ava in this book but I can't help but compare this to The Perks of Being A Wallflower. I don't think I would have noticed the similarities so much if I haven't just finished TPOBAW before I started this but there are so many of these similarities I felt as if I was reading the same story just in a females point of view.
Laurel starts in a new high school where she doesn't know anybody. Where nobody knows her name or what happened to her sister. (pointing out the obvious same thing with Charlie in TPOBAW) it must be hard, I mean I know how hard it is stating a brand new school and not knowing anybody and just feeling so alone!
The letters that Laurel writes, they capture the person that she's writing about. I learned some things that I didn't even know about them. In some of these letters I actually got goose bumps while reading; Ava Dellaira managed to bring the people back from the dead even in that short amount of time. But yet again I can't help it but mention that is exactly what Charlie did; I mean the letters to his friend. This idea to write letters to dead people was clearly a somewhat original idea and I loved it.
"I feel like I am drowning in memories. Everything is too bright."
What happened to Laurel when she was younger, when her sister would take her to the cinema and leave her with a guy so she could sneak off with her boyfriend. This is what got me rather mad. At this point I hated May, I hated her character so much! How could she not see what would happen? How could she not even for a second think that something would happen to her younger vulnerable sister in the hands of a strange guy! It's so unbelievably stupid! I don't think this revelation caused May's death, I don't think that Laurel finally telling her bigger sister what happened in a strangers car when she would leave her there caused her to fall. But I have to bring this back to TPOBAW… Charlie was also molested, his auntie took advantage of him and he never told anyone, he as well managed to get his head around it in his letters. Just like Laurel.
I don't think I'm the only one that found these similarities to Stephen Chbosky's novel. They are both rather similar and I read in Ava's acknowledgments that they are close friends so I'm puzzled as to why both books are alike. I love both Love Letters To The Dead and The Perks Of Being A Wallflower equally but I have to say that I did connect with Laurel's story more; and I do think that it's because she's a female.